MIPosaur of WowWee is your new pet coming straight from prehistory! With a strong personality and a non-standard technology, MIPosaur changes its mood and interacts with its environment. Ultra-connected, guide him with the hand gestures, its connected ball or even with your smartphone and your tablet.
Your goal? It is to tame it! But attention MIPosaur don't let not so easily, it has its own character. The more you play with him, the more he'll concidereras as her best friend.
His personality and his intelligence evolves over the games, he apprehends his environment and interacts with it, it continues only in balance and moves quickly to hunt its prey! Its GestureSense technology allows him to follow your hand gestures and thus achieve different figures, his ball connected, the Trackball allows you to play several games with him. MIPosaur also works with a compatible iOS and Android application that allows you to play new games and to remotely control your robot dinosaur.
He is also able to detect if there is an another MiPosaur or MiP nearby, but beware, you can trigger a prehistoric battle at any time!
A very stable balance wheel system allows Miposaur to move easily and quickly. Sounds and movement sensors allow it to react with the environment as well as to all modes of available commands: it reacts when you shoot the tail, typo hands etc… These sensors enable also to detect and bypass the obstacles facing him. It has light and sound effects he uses to express his moods and his displeasure.
He alternated curious, excited and embarrassed mode
He grumbles and pouts depending on his mood
Miposaur meets 10 gestural commands
6 modes of games from its Trackball
Free MIPosaur application
Quick and easy to use
Sound and light effects
Can fight his friend MIP or other Miposaur!
Miposaur is equipped with GestureSense™ technology that allows it to respond from a slip of the hand to many orders. Depending on where you drag your hand, you can either become the new best friend of Miposaur, or become prey new!
The Trackball (trackball)
To access 6 modes of games from its trackball Trackball!
The trackball has 6 different game modes. Whenever you turn the button, a new game is activated. Take – the walk, offers him a snack, or are watching Miposaur play with the Trackball.
Food: use the ball of games connected to offer sweets to Miposaur!
Dance: discover the movement of Miposaur! Waving the Trackball to see Miposaur dance and play on your favorite music! To stop the dance, waving the ball again.
Beatbox (Beatbox): when Miposaur is similar to the trackball, it automatically begins to beat the pace!
Mode: the Trackball of command turns on a leash to walk or do you want Miposaur! Take Miposaur for a walk so he finds out of new places to play and explore.
Ball: roll the trackball on the ground and look at Miposaur hunt and push the ball in all directions!
Teddy bear: with this game mode, MIPosaure no longer wants to leave his usual ball favorite!
Application Miposaure
Download the free app Miposaur to discover many additional functions. Thanks to its dedicated application you have access to many features! New modes of games will be offered regularly for more fun with your robot dinosaur MIPosaur! IOS app Android 4.4 and 8.
Diriges Miposaur: remote your robot directly from your smartphone or tablet.
Nourris Miposaur: don't forget to feed your dinosaur that will be heard if you forget!
Battle mode: realize real combat with other Miposaure or even his friend MIP.
Circuit: draw a route on your screen and Miposaur again exactly the same circuit on the ground.
Dance: throw your favorite music and Miposaur going to dance.
Gallery
WowWee Miposaur Robot
Source: www.coolstuff.com
Football-playing robot dinosaur signals rise of Artificial …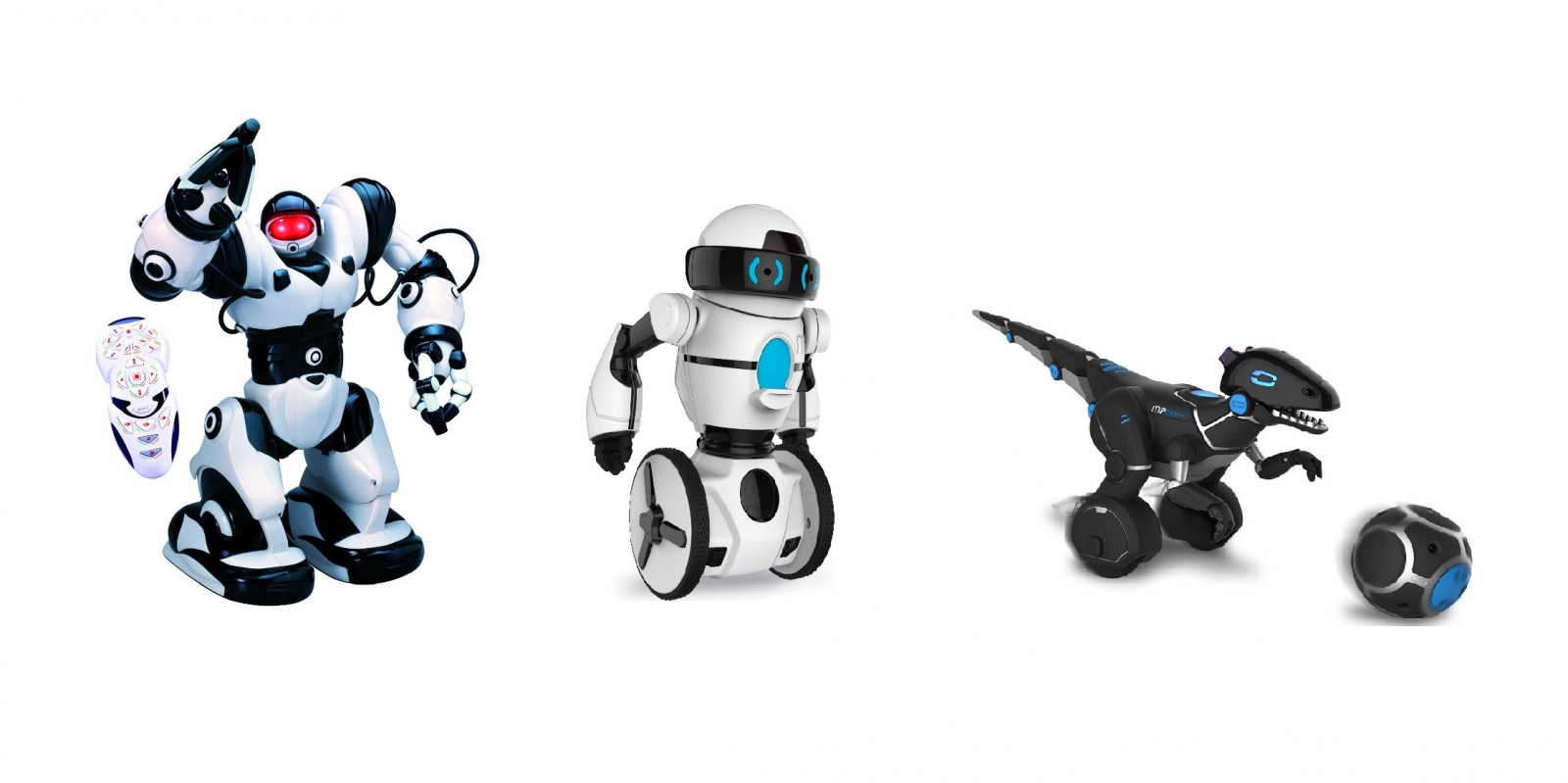 Source: www.ibtimes.co.uk
WowWee RoboRaptor R/C Robot Dinosaur Green No Remote …
Source: www.ebay.com
WowWee Miposaur Best Price $95.83 – Large Robots
Source: www.rcbestprice.com
UPC 771171108900
Source: www.upcitemdb.com
Robotic Toys For Kids – Wow Blog
Source: wowtutorial.org
Robotic Dinosaur Toy – Wow Blog
Source: wowtutorial.org
WowWee®
Source: wowwee.com
Robot Dinosaur
Source: pixshark.com
Buzz Lightyear Programmable 16 Robot Remote Control Toy …
Source: www.terapeak.com
Robot dinosaur
Source: www.1001blocks.com
New Gesture Tracking Self Balancing WowWee MiPosaur …
Source: www.shaogood.com.tw
Dinosaur Toys
Source: www.popsugar.com
Lego 3807 Spybotics Snaptrax S45 Mindstorm Robot Robotic …
Source: www.terapeak.com
Large Remote Control Robot For Kids Superb Fun Toy Rc …
Source: www.terapeak.com
Best Electronic Pets For Kids Reviews
Source: bestwebdeals.withknown.com
WowWee Alive Chimpanzee
Source: www.doovi.com
CES, where science fiction becomes FACT: Brainwave bands …
Source: www.dailymail.co.uk
MiPosaur Robotic Dinosaur Pet by WowWee. First Look …
Source: www.youtube.com
Best Robotic Dinosaur Toys For Kids Wowwee Mip Robot …
Source: flipboard.com